NUC is the most cost effective way to start your own server experience.
NUC is not just one of many products by Intel, but it is also a new form factor of all-in-one mainboard sized 4" by 4" which also includes a processor.
NUC is powered by one of multi-core Intel® Core™ Processors. It is upgradable to 16GB of RAM and has a mSATA or m.2 slot for a SSD as well as a SATA for a 2.5inch HDD or SSD.
Running a NUC as an offsite backup, web server, ftp server, e-mail server, and etc. can be very cost ffective. When compared with an ordinary x86 server, NUC is smaller, less expensive, and more energy efficient. Because NUC is more efficient, hosting companies will be able to offer their services at reduced price when NUC is used in place of conventional servers. Generating less heat and using less power is not only a great way to save money, but it is also environment friendly.
Combined with Intel® vPro™ Technology, service provider's maintenance cost will be dramatically cut down.

Very small form factor
Maximize usable space compared with standard 1U server

Low electricity consumption
Max 25w /each NUC

Low heat
The least amount of system cooling required

Easy to manage
Remote management with Intel® vPro™ Technology
About NUC Server
NUCserver is the brand name of solution which make NUC turn to server. It's design is dedicated to Data Center & sub provider industries.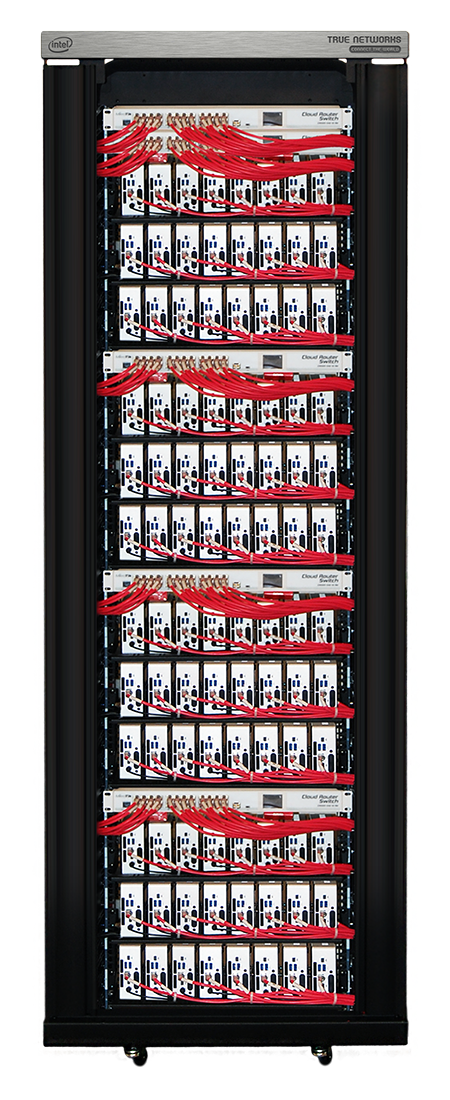 NUCserver is composed with three main components.
First component is NUCserver Universal Solution. Most data centers are equipped with well known the 42U 19" rack mount system. To accommodate pre-existing rack system, a very thin slide rack shelf was designed. It can enclose 8 NUC units and Power Supply Unit with remote power management capability. With this sliding rack shelf, 192 NUC units and necessary network equipments can fit in a standard 42U 19" rack mount system. It is called "NUCserver Universal Solution"
Second component is NUCserver Custom Solution It is a custom rack solution which can also house 192 NUC units as "NUCserver Universal Solution." With this custom rack, service providers can enjoy High space efficiency. In case of a standard 42U 19" server rack, at least 1 to 1.2m space clearance is needed for pulled rack units during installation and maintenance access. And each server rack takes 1 to 1.2m in depth itself. So each row of server rack need at least 2~2.4m space. In contrast, NUCserver Custom Solution rack only takes 0.6m in depth, and it only requires 0.6m between each row. Therefore, each row of custom server rack only takes 1.2m resulting 40 to 50% space saving.
The last component is NUCserver Remote Management Solution. NUCserver uses Intel® vPro™ Technology for remote management similar to IPMI. It works as iKVM function on a commercial server, and it is sufficient to troubleshoot most cases. However, in the real world, there will be rare
occasions when NUC devices become completely unresponsive. To recover from the situations, a remote power management system using network based power distribution unit (IP-PDU) is designed. Customers and tech-support personals can easily turn off, turn on, or power cycle from remote locations. The remote power management unit also comes with own API's to be integrated with service provider's website. It will enable customers to control their own NUC machine's power state without interaction with tech-support. Combined with Intel® vPro™ Technology and IP-PDU, it is called "NUCserver Remote Management Solution"
Electricity consumption also matters.
Standard x86 1U server consumes 150W in average. However, each NUC unit consumes maximum 25W only. If ordinary standard 42U 19" rack houses 40 of 1U servers and necessary network switch. 150w x 40 = 6000w + α
In comparison with NUCserver Universal Solution, it can house 192 of NUC on same 42U 19" rack.
25w x 192 = 4800w + α
Using NUCserver Custom Solution, it will consume exactly same amount of electricity as NUCserver Universal Solution, but it will only take up just a half of the space.
Now we can imagine and try to compare ordinary server rack system and our NUCserver solutions.
Suppose some ordinary hosting or co-location service provider operates 100 of 42U 19" rack. It is possible to install maximum 4,000 of 1U servers. This set up will consume 6MW of electricity. With our NUCserver Universal solution, it is possible to install 19,200 of NUC in the same space, and it will only use up to 4.8MW of electricity. With our NUCserver Custom Solution, it is possible to install 32,640 of
NUC in the comparable amount of space, and it will consume 8.16MW of electricity.
Intel NUC
Next Unit of Computing is a small form factor PC designed by Intel.
Small Package, Big Potential
The Intel® NUC is an energy-efficient, fully functioning PC that not only fits your performance needs—it fits in the palm of your hand.
The Kit
The Intel® NUC kit is available from various retailers and includes a highly customizable four-by-four-inch board that is ready to accept the memory, hard drive, and operating system you choose to install.
The Board
The four-by-four-inch Intel® NUC board comes complete with a soldered-on processor. The board can be purchased independently of the kit, giving you the flexibility to choose the chassis that best suits your needs.
From enterprise to small and medium business, university computing labs to call centers, the Intel® NUC is driving new models of computing in small spaces. The new Intel NUC kit NUC5i5MYHE and board NUC5i5MYBE are powered by the Intel® Core™ i5-5300U vPro™ processor, providing an ideal combination of performance and reliability for usages where downtime isn't an option. Intel® vPro™ technology 1 helps you manage repairs remotely, reducing the time it takes to resolve hardware problems by 66 percent and software problems by 88 percent2 giving your customers the reliability and availability they require. The advanced capabilities of the Intel® Core™ i5 vPro™ processor gives your customers performance to run video analytics to target messages to the right audience. And the triple display capability means your customers can deliver their messages across multiple screens. With 4K display support it's an ideal device for digital signage with video analytics, digital kiosk, intelligent vending, or PC replacement.
A serial port option to connect legacy embedded devices means that you can customize the Intel NUC for a wide-range of usages, including POS systems. A replaceable lid further extends options for customization, enabling third-party innovation and new usage models with NFC and USB headers. Intel NUC NUC5i5MYHE and NUC5i5MYBE have the option to install a 2.5″ HDD or an M.2 SSD. The choice gives your customers options to store all their files locally or take advantage of the fast, power-efficient M.2 form factor which minimizes load times and improves reliability.
NUC Hosting
True Networks provides NUC hosting service with NUC server solution.
True Networks provides NUC server universal solution, NUC server custom solution, NUC server remote management solution with NUC server solution.
About us
TRUE NETWORKS, Connect the World!
TRUE NETWORKS has been providing reliable and scalable Web hosting infrastructure solutions. Also, We offers Mikrotik's best quality, cost-effective products in the capacity of MikroTik sole distributer of Korea and Japan. Our company was established in 2009 and has since served a broad range of industries including IT, manufacturing, retail, education as well as Government Agencies and Departments.
Partners
We have established a strategic alliance with these company.
Rich & Time
www.rntime.com
Uniquest
www.uniquest.co.kr
Contact
Our location information and email contact form.
Location
#45, 1-B, Tokizaki , Inashiki-shi, Ibaraki, 300-0523, Japan
Tel.
Japan +81 29-893-0537 / Korea +82 31-889-8894
Email Contact
If you would like to be contacted by a staff member please fill out the form below.